Create the "wow effect" for your physical space.
Upload to www and social networks
Optimised for all the operating systems
Usable for virtual reality
Link within the QR codes
Compatabile with printers
Emotions awaken
Virtual tours from PANO3D
"We offer technically perfect 360° panoramic images of the highest quality. Our goal is to capture the magic of your physical space creating the "wow effect" with professionally processed raw photos. Our programming skills gaurantee to optimize the effectiveness of your visual marketing."
Virtual tours are created in HTML5 – optimized for all operating systems, mobile devices and tablets
We use detailed advanced graphic processing with 'user-friendly' navigation and control
We offer unlimited forms of multimedia programming (audio, text, photo, video, interactive elements)
Our virtual tours will simply connect to your web pages and social networks (Facebook, Twiter, Google+ and portals etc.)
Each of our virtual tours includes a virtual reality module (Google Cardboad, Zeiss VR, Samsung Gear, Oculus Rift)
We also provide high quality panoramic spherical photos for further use (web, print, advertising materials and billboards etc.)
We are 'Google certified' so we can place your virtual tour directly into Google Street View for you

The proposal consists of choosing the most interesting aspects of your physical spaces. We meet your requirements and achieve the objectives.

We will completely adapt ourselves to you and to your physical spaces in order to achieve the best quality of each individual shot.

We work with state-of-the-art technology (HTML5) for viewing on mobile phones and tablets. The output is also compatible with VR headset tours.
On-line / off-line by agreement. As a final product we'll give you a link (url address) for simple implementation and delivery over the internet.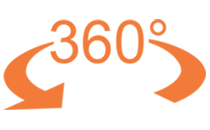 RECEIVE A COMPLIMENTARY PROPOSAL FOR YOUR LOCATION BY CONTACTING US TODAY.